We had a fantastic line up of events for our one-off Teacher Showcase Day in November 2019! This year, 2020, we are offering a series on virtual workshops beginning with our SOPHia BeeWise Teacher Workshop, taking place online, via Zoom, from 7pm to 8pm on Tuesday, November 3rd.
Details of other planned workshops can be found further below.
This workshop will introduce teachers to the science of bees and beekeeping, drawing on our own SOPHia BeeWise blog and other bee-related activities. The workshop presenters are Pauline Walsh, Nancy Serrano and Gráinne Walshe.
REGISTER NOW USING YOUR EMAIL AND WE WILL SEND YOU THE LINK TO THE ZOOM MEETING CLOSER TO THE DATE OF THE WORKSHOP:
https://www.eventbrite.ie/e/beewise-physics-workshop-for-teachers-tickets-125374094291
About the Workshop:
The SOPHia project aims to encourage more students, especially female students, to take up physics as a Leaving Certificate Subject. This is a Science Foundation Ireland funded project. In addition to our workshops, and school visits, we also have a website for parents, teachers and students, with curriculum-linked activities. The idea is to generate enthusiasm and interest in physics, which is found in all kinds of unexpected places, for example in the protection of endangered species. Society is becoming increasingly aware of the interconnectedness of all things living on this planet. The critical role which bees play in plant pollination is currently receiving much attention so we decided it would be interesting to learn a little more about these fascinating creatures. We set up our SOPHia hive in an established apiary at Knockainey, Co Limerick in April 2019, and colonised it with bees with the help of experienced beekeeper Pauline Walsh and her colleagues there. The sensors we set up in the hive are streamed to the cloud where it is available to anyone interested, via the Sophia website.
In this workshop, aimed at teachers, there will be:
– an introduction to beekeeping,
– an overview of what we have been doing with our SOPHia bee colony,
– and an introduction to the curriculum-linked bee-related activities we have developed for primary and Junior Cycle Science.
There will be a 35 minute interactive presentation, followed by an opportunity for participant questions and answers.
The workshop is aimed at :
– primary teachers- post-primary teachers who teach physics, but may not be specialists- JC Science teachers- physics teachers- career guidance teachers- student teachers
Presenters:
Pauline Walsh: Founder member of 3 Counties Beekeeping Association and of Irish Beekeeping Association C.L.G., member and national fundraiser of Native Irish Honey Bees Society, member and secretary of Galtee Bee Breeders Group, experienced beekeeper with intermediate level certification.
Gráinne Walshe: Director of the Science Learning Centre at the University of Limerick, and Project Lead for the SOPHia Project. She also teaches physics to undergraduates at UL.
Nancy Serrano: Physics and maths tutor at Limerick Institute of Technology, member of the SOPHia Project responsible for development of curriculum-linked activities for primary and secondary level students.
Email: sophiaphysicsproject@gmail.com
Details of the Full Programme Planned for Autumn 2020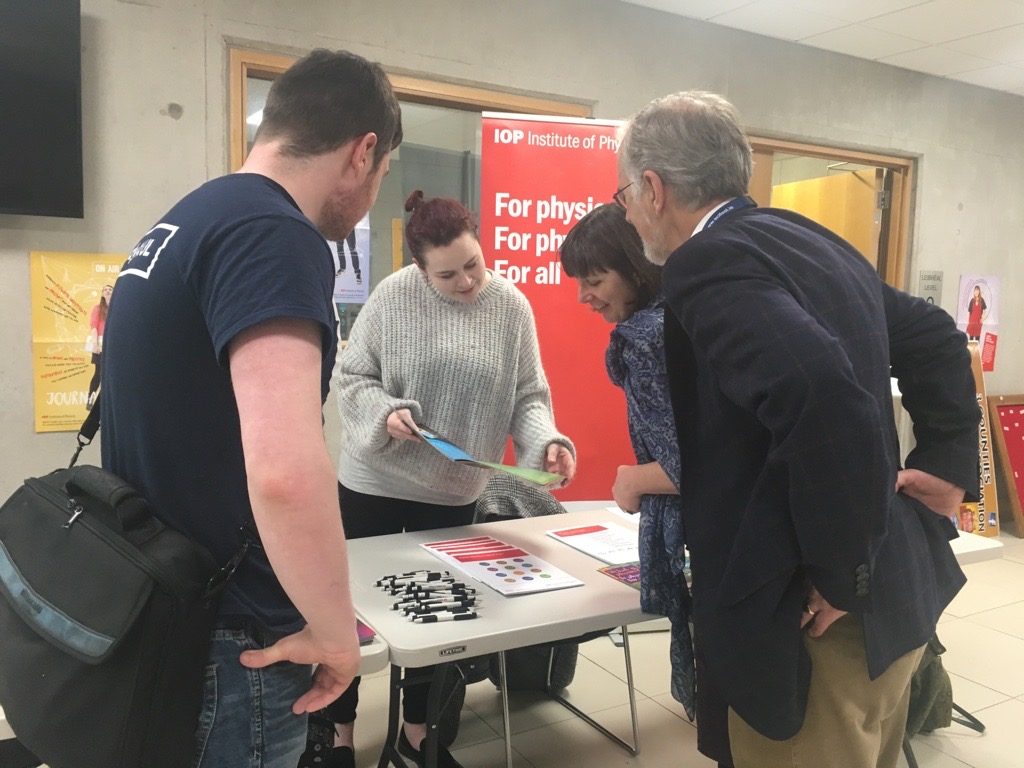 Circumstances in 2020 unfortunately have meant we have not been able to plan for a similar live event and instead we are planning to run a series of shorter virtual workshops in Autumn 2020.
These interactive workshops will begin in October when we will bring the SOPHia beehive project online for a workshop! This will showcase the wonderful world of the science of bees, and some related activities for the use in the classroom, courtesy of our beewise blog!
Provisional Teacher Showcase Programme Autumn 2020
The science and physics of bees – (Nov 3rd) Pauline Walsh, Nancy Serrano and Gráinne Walshe
 SOPHia Teacher Toolkit – how SOPHia can help teachers to support diversity, and Institute of Physics Ireland assistance for teachers (late Nov) – Gráinne Walshe and Yvonne Kavanagh
 Gender in STEM education (Dec 7th Merrilyn Goos) 
Physics Careers in industry (Jan – tbd)
You can also email sophiaphysicsproject@gmail.com for more information. Details on registration for each showcase talk will be coming soon.