Limerick is a vibrant city in the southwest of Ireland. For UK participants Limerick is accessible from all Irish airports, but we would particularly recommend Shannon Airport.
Participants can fly to Shannon Airport (30 km from University) from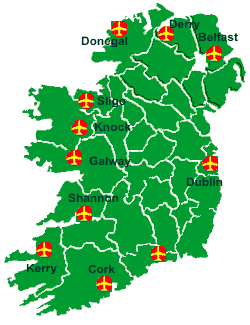 Manchester
Newcastle
Edinburgh
Liverpool
Birmingham
London: Stansted/Gatwick/Heathrow
The 343 bus runs from Shannon Airport to Limerick City center (William Street) hourly. The 304 or 304a can then be taken from William Street to the University of Limerick (and the conference accommodation) for €2.20.
Timetables